WiscSIMS, the Wisconsin Secondary Ion Mass Spectrometer Laboratory, explores new applications of in situ analysis to stable isotope geochemistry. Research in many disciplines can benefit by using the IMS 1280 ion microprobe, a CAMECA large radius magnetic sector SIMS. The dramatic reductions of sample size and analysis spot sizes from 1 to 10 micrometers offer many exciting, potentially revolutionary, research opportunities.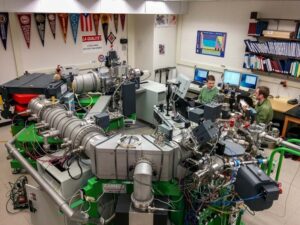 WiscSIMS home page will be renewed fall 2021. For detailed information of the laboratory, access information, and sample preparation guide, please download pdf files linked below.
Contact Information
John Valley, Professor of Geology (email)
Noriko Kita, Director of the Ion Microprobe Laboratory (email)
Chloe Bonamici, Assistant Professor (email)
Mike Spicuzza, Instrument Technician (email)
The WiscSIMS Laboratory
Department of Geoscience
University of Wisconsin-Madison
Lewis G. Weeks Hall
1215 West Dayton Street
Madison, WI 53706  U.S.A.
Tel: 608-265-9528
Fax: 608-262-0693