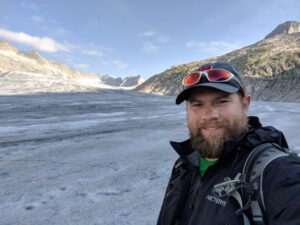 Luke Zoet was announced as American Geophysical Union's (AGU) 2022 Cryosphere Early Career Award recipient. Being selected as a Section Honoree is bestowed upon individuals for meritorious work or service toward the advancement and promotion of discovery and solution science. AGU, a nonprofit organization that supports 130,000 enthusiasts to experts worldwide in Earth and space sciences, annually recognizes a select number of individuals as part of its Honors and Recognition program.
Luke Zoet is recognized by the global Earth and space sciences community for his tremendous personal sacrifices and selfless dedication to advancing Earth and space sciences.
AGU will formally recognize this year's recipients during #AGU22 Fall Meeting, 12-16 December 2022 in Chicago, IL and online everywhere. This celebration is a chance for AGU's community to recognize the outstanding work of our colleagues and be inspired by their accomplishments and stories.